SPEY FISHING IN ALASKA.
One of our biggest passions at Cooper Landing Fishing Guide, LLC is Spey Fishing or Spey Casting. Spey Casting is an age-old fly fishing technique that can be accomplished with a single-hand fly rod or a two-hand fly rod. Spey Casting, specifically Skagit Casting, is the most effective way to swing big flies on heavy sink tips for big fish in Alaska on the Kenai River! Spey Casting is easy to learn and is effective for Rainbow Trout, Dolly Varden, King Salmon, Sockeye Salmon and Silver Salmon.
Be sure to check out your YouTube Channel as we grow our library of Spey Fishing Videos, Fly Tying Demos and fun on the water!
Whether you are a new Spey angler or have been Spey casting for years, we really enjoy sharing the many ways to have a great day on the water with a two-handed rod!
GUIDED SPEY FISHING OPTIONS:
*** All Spey-specific guided fishing trips will be a full day and ideally not exceed 2 anglers per boat. Catch and release is mandatory for Wild King Salmon, Rainbow Trout and Dolly Varden.
Chinook (King) Salmon Spey Fishing
PRIME DATES:
MAY 15TH - JULY 31ST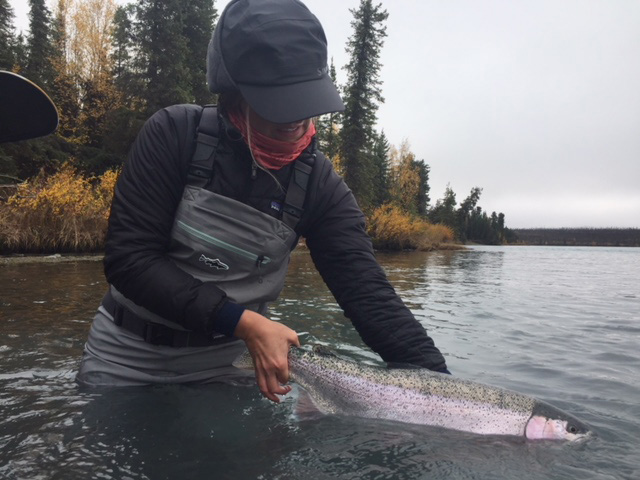 Rainbow Trout & Dolly Varden Spey Fishing
PRIME DATES:
APRIL 15TH - AUGUST 15TH
SEPTEMBER 15TH - OCTOBER 31ST (WINTER FISHING AVAILABLE AS WELL UPON REQUEST)
Silver (Coho) Salmon Spey Fishing
PRIME DATES:
AUGUST 15th - OCTOBER 31ST
Our goal when guiding is to teach Spey Casting techniques to our clients as often as we can. The tight line grab at the end of your fly line from an angry fish is an unforgettable feeling! If you've never tried Spey Casting, we highly encourage it!
Head Guide David Lisi is a contributing author for Swing the Fly Magazine, a highly respected publication in the Spey Fishing world. He also spends over 150 days a year or more swinging flies all over Alaska. David also ties all the flies and has tested them extensively on a wide variety of species.